In this art tutorial, you're going to learn a Cool Colors Art Lesson and we're going to learn the steps for making a Cool Color Scheme or Palette artwork of a Fish that also plays with the principle of design proportion. Grab something to draw with and your cool colors in a choice art medium: blue, purple, and green, and let's make some art.
---
What are Cool Colors?
You might be wondering, what are cool colors? What is a cool color scheme or palette? What element of art does cool colors fall into?
Cool Colors are blue, green, and purple and they are all found on the same side of a color wheel. Cool colors make a viewer feel cold, calm, or peaceful and often remind us of winter, nature, or water. And this is one reason we are going to use cool colors in this art lesson tutorial- because we are going to create a fish that is made up of a mosaic of cool colors and explores the principle of design proportion.
As for the second question, a cool color lesson would fall into the Color Theory category which falls into the Element of Art: Color. So if you are wondering where in the curricular standards to associate this art tutorial with, it would be with the Element of Art Color, but also the Principle of Design Proportion (bonus!)
---
How to Use Cool Colors in Making Art
You can use cool colors: green, blue, and purple, and their tertiary colors in between (such as blue-green, or blue purple), to elicit certain emotions in your viewers. For instance, you can use Picasso's Blue Period as an example of artworks using a cool color scheme, primarily monochromatic (one-color) blue as a way to show historical artworks that are full of a somber tone and a sadness to them.
You can use your cool color palette to make your audience feel a certain way or bring about a certain emotion. What if those Picasso's were warm colors (red, orange, and yellow) instead of blue? What would they make you feel instead? (see Picasso's Rose Period for comparison).
In this case of the Cool Colors Fish Art Lesson for your elementary students, we are going to use cool colors to make the viewer think of nature and the coldness of water.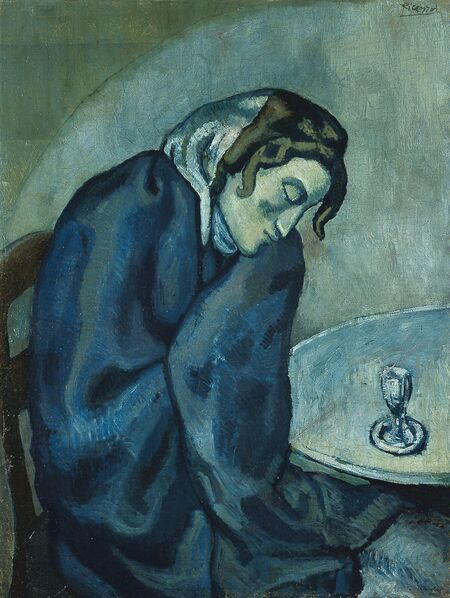 ---
Step 1: Draw the face and back
Begin your fish by drawing the face, back and dorsal find. Change the proportions of these- either make them really big or really small. Distorting proportion helps make something look strange or unusual. In this artwork we will change proportions intentionally to distort the image of the fish.
---
Step 2: Draw the Fins and Face
Next, draw in details on the face and in the fins. In this design I intentionally made the face larger than expected and the fins smaller than expected to make the fish look funny.
---
Step 3: Finish the Fish and Add a Background
Turn the body of the fish into a mosaic with line and add choice details to your fish's setting or background.
---
Step 4: Add Cool Colors to the Artwork
Finally, add cool colors to your artwork using choice art making mediums. In my example I used both felt markers and watercolor paints- however you can explore and experiment using any art mediums you'd like with this lesson.
Conclusion
Cool colors are great to use in artworks to explore cool color schemes and make your viewer feel calm, cold, or even sad in the case of Pablo Picasso's Blue Period. In what ways do you explore cool colors in your classroom? Are you going to try making this fish? I would love to hear your thoughts in the comments!
Want FREE Art Lessons for your Classroom or Homeschool Program?
Find FREE art lessons to help educators and homeschool parents plan the year efficiently with art resources that teach the curriculum and engage students with interesting content and art techniques. You can find all Ms Artastic FREE art lessons in one, easy to access spot and they're all organized by seasons/times of the school year, and by holidays. Find the resources by clicking here.
---